How to Hide Likes on Instagram & Boost Free Real Likes 2023
How to hide likes on Instagram? Check the easy steps to get Instagram hide likes on posts now! And get unlimited Insta likes from real Instagram users free.
Colin | Updated 2023-01-11
---
What's This New Instagram "Hide Likes" Feature? It's no longer news that testing for the new Instagram "hide likes" feature is underway. This news came around mid-April this year when Instagram CEO Adam Mosseri tweeted that the platform would give users the option of making like counts visible on personal as well as other users' IG posts.
This means you can "[choose] not to see like counts on anyone else's posts, [turn] them off for your own posts, or [keep] the original experience." Mosseri tweeted that the decision was informed by the feedback from Instagram users who were part of the initial 2019 test to disable likes.
As you would expect, there were mixed reactions to this new feature. Some users reported that they felt less pressured to create and post content mainly for the purpose of getting likes; other users, especially influencers, business owners and brands, said the feature made it difficult for them to keep up with current trends to better strategize and market their brands. These viewpoints are all valid, or at least the Instagram team thinks so. But it's also worth reflecting on this new Instagram hide likes decision and asking what it would mean for users' likes in general.
Contents
Why Does the Instagram Hide Likes Feature Exist?
Instagram Hide Likes: How to Hide Likes on Instagram
Do Instagram Likes Still Matter to Us?
5 Ways to Get Likes Even With the New "Hide Likes" Feature
Why Does the Instagram Hide Likes Feature Exist?
At a Wired25 event in November, 2019, when Adam Mosseri announced the commencement of the Instagram "hide likes" trial, he said the idea behind it was to "depressurize Instagram [to] make it less of a competition; give people more space to focus on connecting with people that they love, things that inspire them."
To know why Instagram hides likes, we need to note two important things from Mosseri's statements: Instagram is trying to make the environment more healthy for users as well as encourage users to focus more on creating and uploading content that enriches them and the platform in general.
By making the environment less competitive over likes, the team hopes that all users can gain more fulfilling and creative experiences out of Instagram.
Instagram Hide Likes: How to Hide Likes on Instagram
How to Hide Likes on Other Instagram Account's Posts?
Step 1: Go to your profile and click on the menu in the top right corner.
Step 2: Tap on "Settings" > "Privacy."
Step 3: Under the "Interactions" tab, tap "Posts." Then toggle on to hide likes on Instagram.
How to Hide Likes on Instagram from Your Own Post
Step 1: Launch the Instagram app and start creating a new Instagram post.
Step 2: On the New Post page, hit Advanced Settings at the bottom of the page.
Step 3:Then, toggle the top button to the right to turn on Hide like and view counts on this post.
Do Instagram Likes Still Matter to Us?
Short answer: yes, they do. Even with the new feature that allows users to hide likes on Instagram, there is no doubt that they still matter. In a study conducted in Italy during the feature trial period, it was found that in certain categories such as fashion and beauty, disabling likes visibility actually led to increased post engagements.
Despite the Instagram "hide likes" feature, free IG likes still matter to many influencers and brands as they consider like counts on relevant posts to be an important metric for engagement. It's important to note that this is one of the reasons Instagram made like counts visibility an option for users.
So, once again, yes: Instagram likes, hidden or not, still matter.
5 Ways to Get Likes Even With the New "Hide Likes" Feature
1. Use GetinselfGetInsstaIG Liker to Get Likes Consistently
GetinselfGetInsstaIG Liker is a free app that was developed precisely for this purpose. Are you worried that the new Instagram "hide likes" feature will negatively affect your like counts? This is probably the app for you. This app connects you with other Instagram users to guarantee that you're getting authentic free Instagram likes and free Instagram followers. The app is free, convenient and easy to use.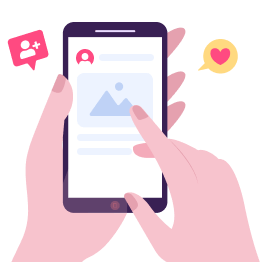 Best Instagram Followers & Likes Gainer
100% free Instagram likes and followers without one penny
Get real Instagram likes and followers without following
Get Instagram likes and followers no password, no verificaiton
You may be an aspiring influencer or a business owner trying to draw traffic to your Instagram account using likes. If you're looking to avoid spending money on hack Instagram likes— because let's face it: they're either fake likes from bots or too expensive for your budget.
All you have to do is install the GetinselfGetInsstaGetinselfGetInsstaIG Liker from the Playstore or App Store, follow the few steps and voila: you have access to unlimited likes from the community of Instagrammers.
In addition to free likes, you also get to interact with Instagrammers from all over the world in various niches as well as receive 24/7 online technical support if you need this Instagram auto liker free.
2. Be Deliberate With your posts
Whether it's a picture of a once-in-a-lifetime sunset or a video of you on a jog, you should be very intentional about your uploads. From the colours in your post, the amount of lighting and hashtags, to the times you post and captions you use, make sure that your content is optimized in every way possible.
A lot of calculations and considerations go into your favourite influencers' and celebrities' posts, even when it hardly seems that way. But keep in mind: that calculations shouldn't override creativity. Let your content be and feel authentic. Deliver quality, engage with other users' content, and you can expect them to notice yours.
3. Be Targeted With Your Posts
Without using Instagram auto liker app, to understand your personal style or brand, and create content that is uniquely suited to it. Understanding your brand also involves understanding your potential audience. Creating content aimed at everybody is creating content aimed at nobody.
Take the time and effort to study your potential followers and/or customers/clients and make content that would connect with them. Let your contents' themes be well-defined and consistent with your brand. If possible, create a content schedule ahead of time so you are well-prepared and inspired in time for uploads.
4. Conduct Research
Research and analysis cannot fail you. You should invest time, money and intellect into researching trends, niches, post engagements etc. The results of your research will help you make informed choices about the kind of content you create.
Remember, though, that research is about helping you be smart about your artistic decisions, not completely taking the place of creativity. In fact, research can enable the creative process; take time to be inspired by other people's work on Instagram or elsewhere. Be smart and authentic with your content and let the likes roll in!
5. Be Regular and Consistent With Quality Content
If you have a significant following on Instagram or if you're working to garner a larger audience, you should be consistent with your posts.
Your current and potential followers may lose interest in you or your brand if you don't produce content regularly, or if the quality of your posts is not consistent. Stay up-to-date when it comes to posting quality, relevant content and viewers will want to be a part of your journey. Consistency helps maintain loyalty to a brand.
The Bottom Line
The new Instagram "hide likes" feature is a good place to start when it comes to detoxifying the environment on Instagram, and it can and will affect the way we engage with content and other users on the platform. One of the big questions that has been raised about this is: how will it affect my like counts? For many individuals, influencers and brands, Instagram-like counts are one of the metrics used to measure engagement. The IG community is adapting and will continue to adapt to maximize the usefulness and benefits of the platform. The methods we shared for increasing likes are fool-proof even with the new Instagram "hide likes" option many creators will be using. Applying them to your content creation processes will ensure that you're not negatively affected by the new developments.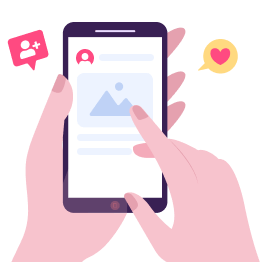 Best Instagram Followers & Likes Gainer
100% free Instagram likes and followers without one penny
Get real Instagram likes and followers without following
Get Instagram likes and followers no password, no verificaiton