How to Generate Popular Instagram Captions to Get Likes in 1 Hour
Creating Instagram captions to get likes can be a difficult task, but there are some reliable tools that can make this thing easier for you. Find the best tool here.
admin | Updated 2022-01-20
---
Every Instagram user knows that shares, followers, likes, and comments are like the currency on this platform. If they have more likes and followers, they can easily gain partnerships with different brands and can also get more followers. But this would not happen without writing a good caption for every post. The caption is the first impression of others to your post. By writing cool and popular Instagram captions to get likes, one can get more likes and comments, as well as improve Instagram engagement.

However, this is not an easy task as you need to consider a lot of factors to come up with an excellent caption. But even so, there are alsosome automated tools that you can use to generate good captions to get likes for your posts. In this article, you will get to know everything about how to write a good caption and how Instagram captions generators work.

Contents
What Instagram Captions Get the Most Likes?
How to Generate Popular Captions to Get Likes?
One Trick to Get Likes Faster
What Instagram Captions Get the Most Likes?
If you want to increase your Instagram likes, then it is crucial to focus on creating good Instagram captions to get likes. But writing an amazing caption requires a creative mind. As per the social media experts, a perfect and interactive IG caption is something that adds personality, offers context, and can motivate followers to like your posts. For example:
"It's kind of fun to do the impossible." – by Walt Disney


"Are fun plants this weekend?" – AllBirds

These captions are quite straightforward and can attract replies from the IG users.
Moreover, to create a caption that can attract more likes, you'd better use some important elements, such as emojis, a killer first line, call-to-action, hashtags, a consistent brand voice, and more. Have a look at the below-given section to understand how to write popular Instagram captions to get likes.

How to Generate Popular Captions to Get Likes?
When it comes to writing good Instagram captions to get likes, you need to make sure that you have delivered the attention-grabbing and punchy elements of your line. You can capture their attention by using an intriguing statement and hard-hitting stats. Try to keep the posts below 2000 characters. Or you can:

1. Add call-to-action
You should also add call-to-action in your posts to drive more engagement. For example, "double-tap if you think the works are good." And try to keep it easy and fun.

2. Use hashtags and fonts
Cute fonts, emojis, and trending hashtags can also attract more people to your posts. This way you can reach more people and make them like your posts.

Also Read: Best Instagram Hashtags for IG Likes >>

3. Use @ mention
This way, you can make your posts show up in the feeds of other users by tagging your friends. Try to tag at least 5 to 7 friends to boost up your reach. When they will like your posts, their friends will be able to see the post and interact.

4. Ask a question
You should encourage people to comment. In order to increase the engagement, ask your followers a question and don't forget to respond to the user's answers.

5. Use auto caption generators
If you are looking for an easier way to create Instagram captions to get likes, then you can always use IG caption generators that can automatically create captions for your posts. Sounds amazing, right?
GetinsCaption is a tool that creates good captions for Instagram to get likes. With the trending captions generated by GetinsCaption, you can easily hit your target audience. This app comes with some amazing features that make it popular such as:

1. A huge database of captions

It has a database of more than 7000 attractive and unique Instagram caption ideas.

No matter what your topic is, it guarantees to offer relevant captions. You can choose between 30+ small classes and 200+ big classes.

3. Completely free to use

You don't have to spend your money to use this tool. All you need is to use the coins that it offers, to get free Instagram followers and likes then.

This advanced automatic system captures and filters the amazing captions to offer the users trendiest Instagram captions to get likes.

Steps of using the GetinsCaption app:
Step 1: Visit the official site of GetinsCaption.
Step 2: There, you can see a search box. You need to enter the desired keyword to create captions.

Step 3: Type your keyword and click on the search icon. Now, the tool will display some captions. Choose one based on your preference.

This tool for creating Instagram captions to get likes is very easy to use and works great. However, there are some other tools that you can use too.
Additional recommended caption tools:
1. Caption Plus
2. Caption For Instagram
3. Caption Pro

One Trick to Get Likes Faster
Even though there is a lot of tools that you can use to create captions to get likes on Instagram, when it comes to choosing the most effective and reliable tool, you can always trust InsBottleGetInsstaIG Liker. This is a free-to-use Instagram auto liker developed, and you can use it on both your iOS and Android-running devices to get unlimited Instagram likes for free. Some unique things about InsBottleGetInsstaIG Liker that have made it popular are: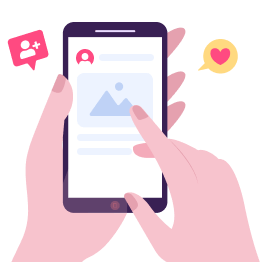 Best Instagram Followers & Likes Gainer
100% free Instagram likes and followers without one penny
Get real Instagram likes and followers without following
Get Instagram likes and followers no password, no verificaiton
1. Unlimited free likes for a lifetime.

2. 100% authentic and real Instagram likes.

3. Instant and consistent delivery within few minutes.

4. Without password and login.

5. It comes with 24x7 technical support.
Follow the below steps:
1. Download and install InsBottleGetInsstaIG Liker to your phone.
2. Create a new account and add your desired Instagram accounts username.
3. Choose how many likes you want and tap'Get Likes Now'. Then you'll get free likes instantly.

End up
In short, it can be said that Instagram Captions are a trending topic. As it comes to getting more likes, enjoying better engagement and expanding influence, solid captions would help you a lot.
When you don't have sufficient time to follow conventional strategies of creating a cool caption to get likes, you can always use InsBottleGetInsstaIG Liker to get likes boost on Instagram. InsBottleGetInsstaIG Liker is completely free to use and offers real likes from authentic Instagram users. Download InsBottleGetInsstaIG Liker now to generate engaging Instagram captions to get likes now!

IG Service

Panel

100% Safe & Clean